What is SHOENE MEIJIN
SHOENE MEIJIN is equipped with LED for operation unit for clear viewing. When the guest goes out, all lighting are shut down, but the fan coil unit remains on operation in the energy saving mode of idling mode to maintain comfortable room temperature
Features of SHOENE MEIJIN
Room temperature control
The room temperature control with the twin-pipe fan coil unit enables temperature control equivalent to that of individual air conditioning, including the intermediate period (when switching between cooling and heating).
Room air conditioning system diagram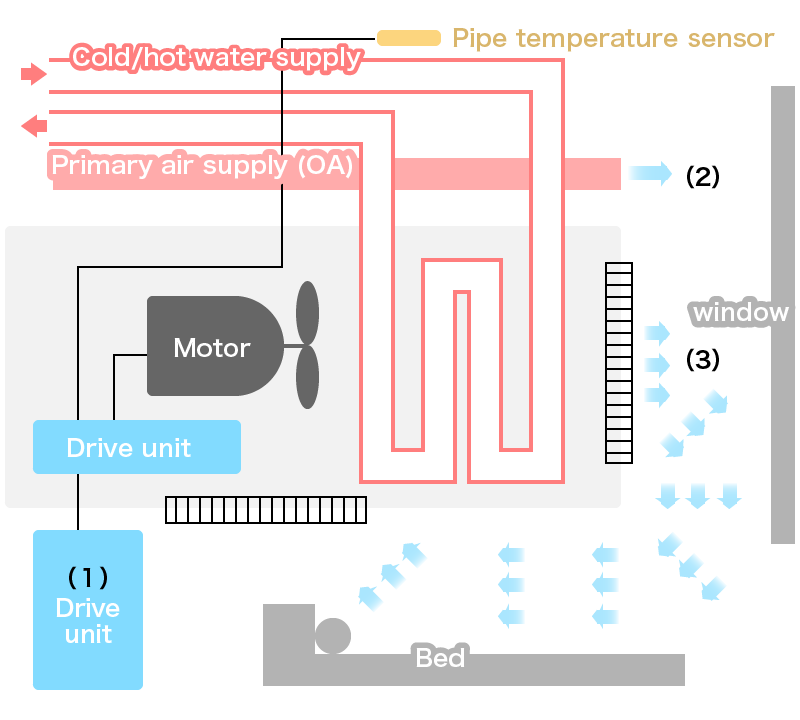 When a temperature controller is attached to a two-pipe fan coil unit for the guest room, the system outline diagram on the left is generally used.
Before the control unit (1) is attached, OA (primarily processed outside air and sends it into the room) (2) is used to secure an appropriate level temperature of the living space, and the insufficient volume is supplied through fan coil unit (3).
Since the control unit controls fan coil unit by sensing the room temperature, it becomes possible to shift the control of the temperature level from OA to the fan coil unit.
Room temperature control model pattern in winter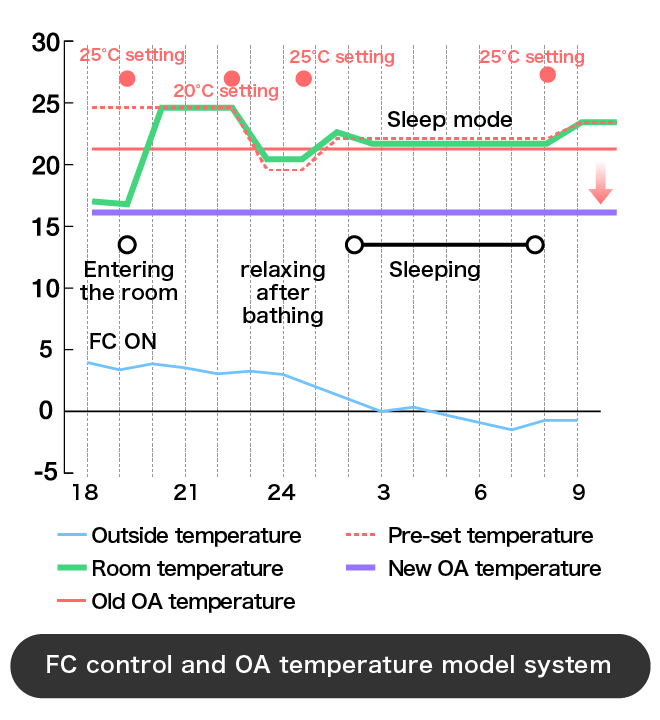 The weakness of the twin-pipe type in winter is its inability to lower once the room temperature rises too high.
Therefore, we will operate it to lower OA temperature so far as possible to lower the room temperature.
Room temperature control is performed with a fan coil unit equipped with a temperature control device.
Room temperature does not go above the set temperature. If the guest wishs to lower room temperature after taking a hot bath, OA temperature will be of help.
As a guideline for OA temperature, we would suggest to keep the room temperature below 18℃. For hotels in Europe and the United States, 15°C or lower is recommended.
Energy saving and cost saving effect by ECO MEIJIN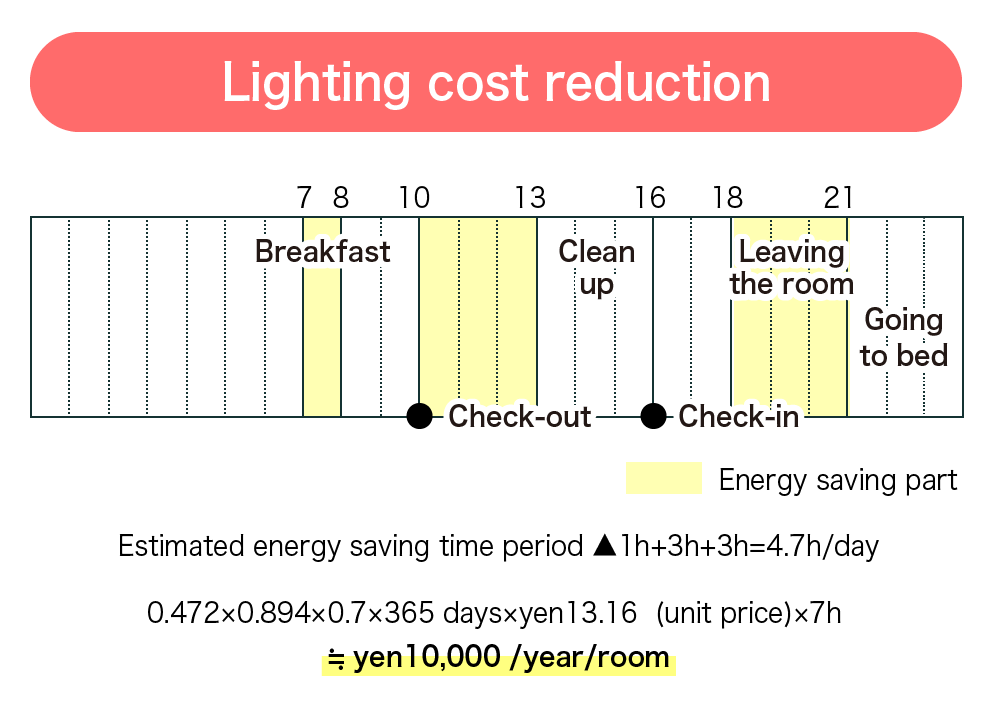 Aiming to achieve guest's comfort and energy savings by controlling lightings and air conditioning.
Example of reduction
●It is possible to save approx.. yen 26,700 per room per year (15㎡ on average): ▲26,700 ÷ 12 months ≒ ▲yen2,200 /room month
Changes before and after introduction of SHOENE MEIJIN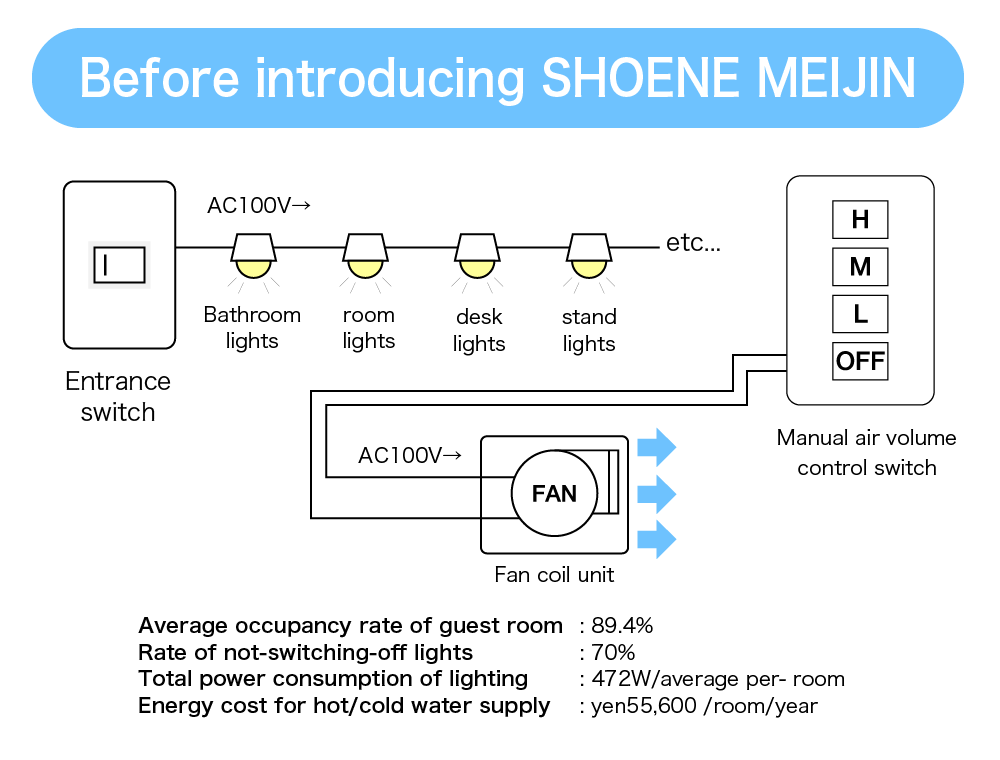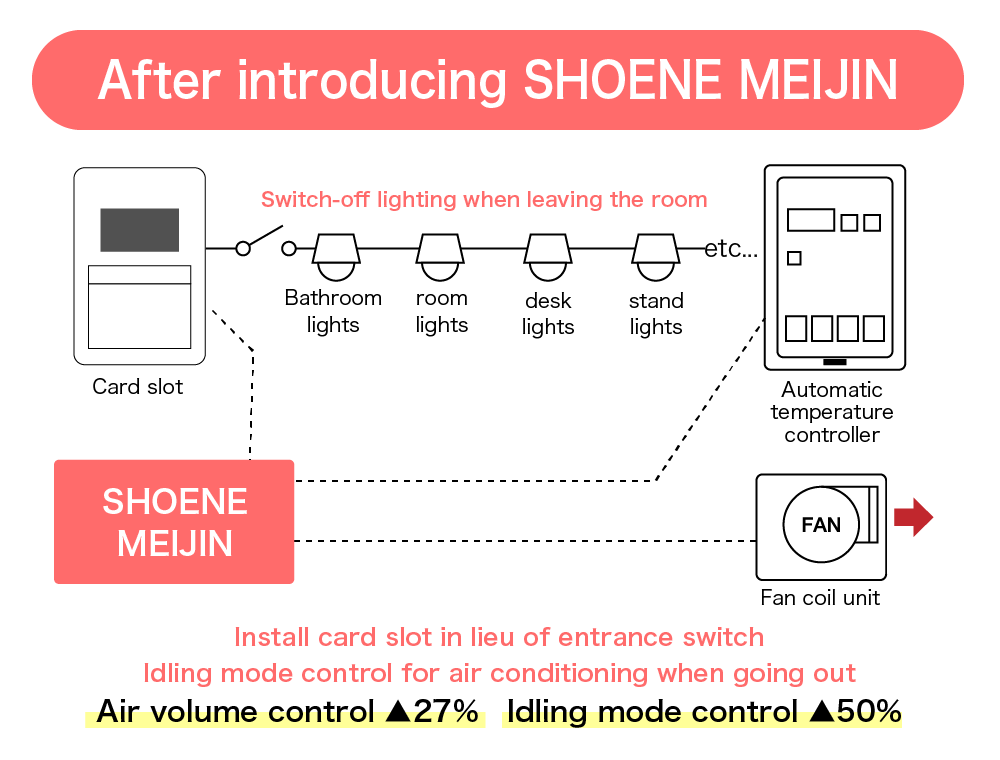 Reduction of energy costs
Electricity cost reduction example
Why cost cutting is possible?
All lights are turned off when the guest is out, but air conditioning is controlled by idling mode.
Proper air conditioning system with fan coil and OA (outside air) enable to eliminate excess energy cost(too hot or too cold), that lowers the heat exchange ratio to the entire hotel guest room. As a result, it reduces energy cost to generate hot water and cold water. As a result of which big energy costs reduction is possible.
Energy cost reduction will help lower lease payment, if that is a case.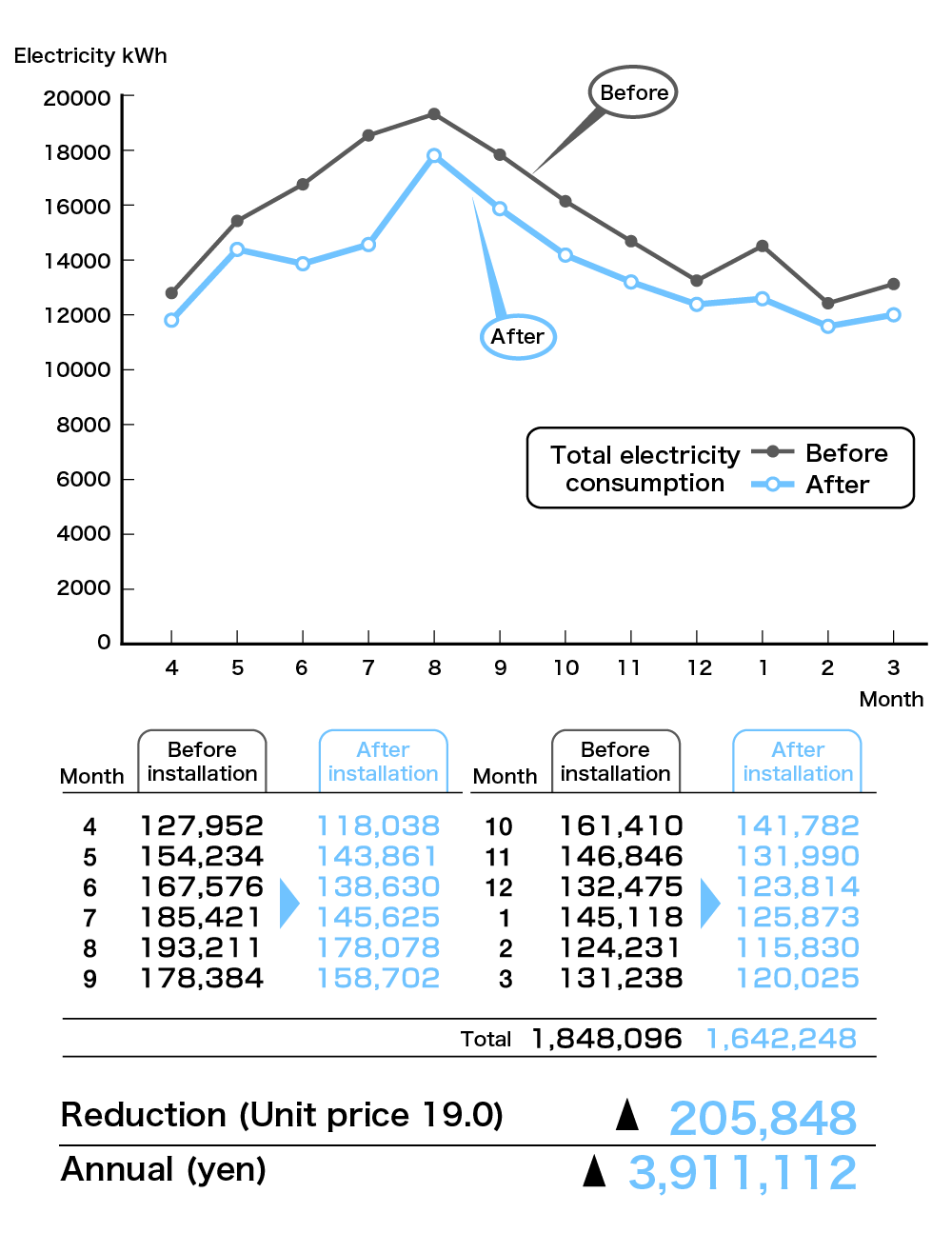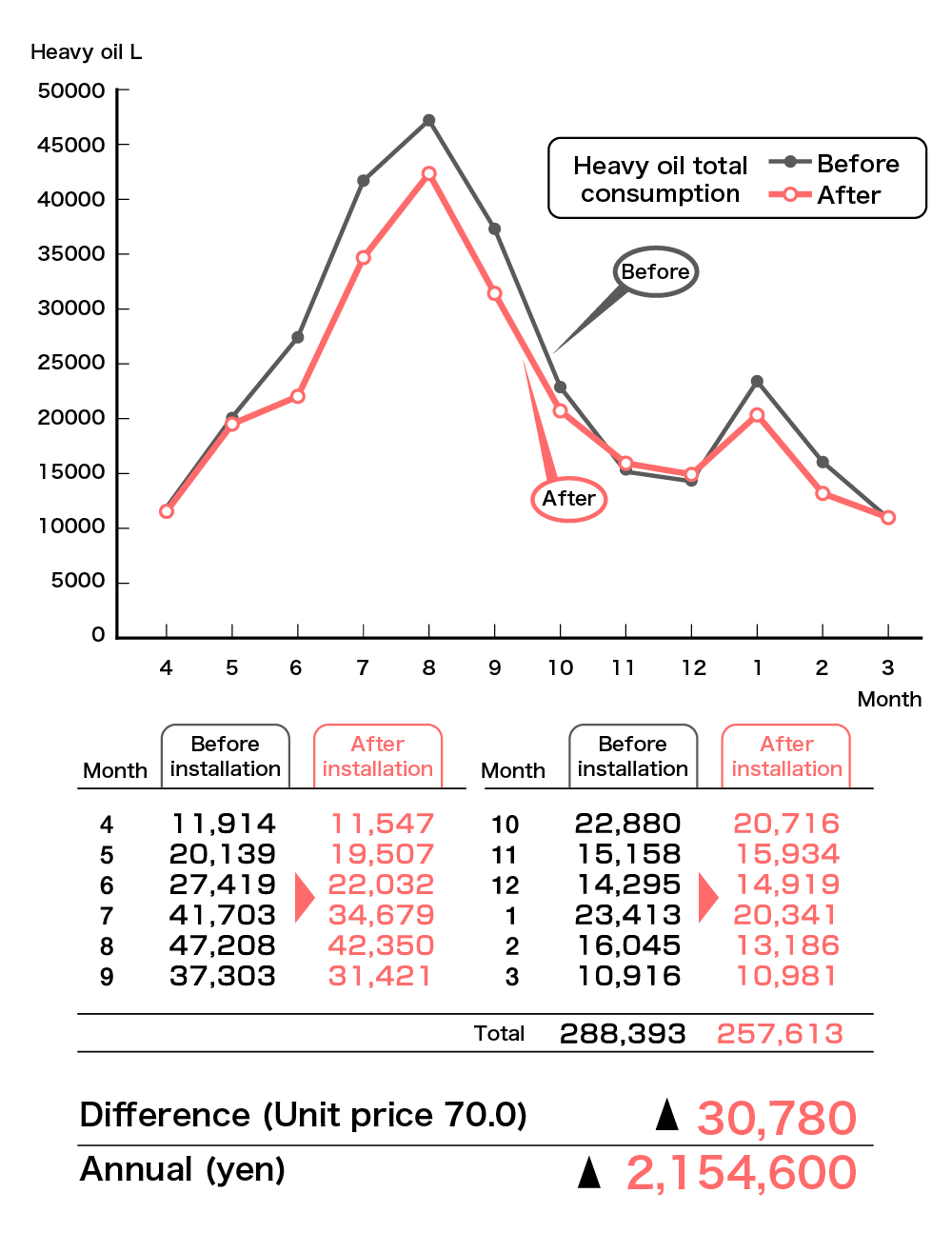 Comparison of energy cost before and after installation of SHOENE MEIJIN which controls air conditioning and lighting in guest rooms (Example: 220 rooms) (Is reflected in the amount of electricity.)
When entering and leaving the room
When entering the room: When the guest insert key tag or card key into the energy-saving slot, lighting (entrance lights and room lights) will be on. In addition, air conditioning automatically starts at 25℃ in cold water and 23℃ in hot water.
When leaving the room: When the guest leaves the room (remove key tag or the card key), lighting will immediately turn off. Air conditioning automatically shifts to idling mode control (pre-cooling/pre-heating operation). (Set temperature for heat run control is 27℃ in cooling period, 16℃ in heating period)
Idling mode control
Idling mode control* allows you to enter the room without any discomfort. Since it reaches a comfortable room temperature quickly, there is no preparation after entering the room.
* What is idling mode control? It automatically switches to pre-cooling/pre-heating operation when not in use (nothing inserted in the energy saving slot). It is a system that controls at a certain room temperature so that the guest does not feel uncomfortable when entering the room. (Cooling period 27℃, heating period 16℃ variable)
We always concern comfort of the guest and the hotel operator.